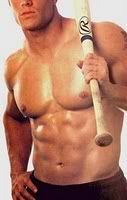 Okay, now those of you who have been around for a while are probably rubbing their hands together saying...oh, I've got this one! And to you, I say NO, it's not that easy--I'm not having the "name this baseball player" contest again. I'll freely admit this is Gabe Kapler. Just for the record, I think Eyre and Jase won that one last year. I wanted to put him up again because, well, look at him... Oh, and I'm setting the mood... Not for that! For my post!
You see, it was last winter after the holidays that I had a story pop into my head, about a baseball-loving mom who get involved with her son's teammate. The more I thought about it, the more I realized that I had more than one "older woman, younger guy" story in my mind. Thus was born my
Seasoned Women series
.
My first story was the baseball one,
Spring Training
. However, due to a scheduling snafu, it wasn't able to be released as originally planned last spring. It was written over a year ago and was edited a LONG time ago, so it was with shock that I realized, wow, it's March and ST will
finally
be coming out on Monday!
BLURB:
With two diverging careers on the line, Teri and Aaron are torn between the right thing to do...and what feels so right to them.

With a son who's played since he could walk, Teri lives, eats and breathes baseball. She was almost more excited than Emery when his invitation to a minor league team's training camp came. But excited doesn't begin to describe her reaction to Em's new mentor, Aaron Reynolds. A spring fling? Just the ticket.

Fighting a chronic injury, Aaron is biding his time until he can return to the majors. Being assigned a mixed-up rookie to babysit is fine with him, especially one that come with a sassy, sexy camp follower like Teri. But he soon finds he has his hands full...trying to keep Emery on the straight and narrow...and trying to keep his liason with Teri strictly physical.
*********
So here's the contest: Simply comment on this post by Noon ET, Monday, March 7th, and indicate which of these two separate drawings you are interested in:
I will draw a winner for each of the two contests on Monday afternoon, so comment with your choice now! Optional, what is your favorite thing about spring? Good luck!